Asbestos News
Dearborn factory spewed asbestos
U.S. is probing how widely the danger spread
By Hugh McDiarmid, Detroit Free Press, January 22, 2004
A dangerous form of asbestos is in thousands of Michigan attics and was inhaled for decades by workers at a Dearborn plant, federal officials believe.
The tainted mineral, vermiculite, from a mine in Libby, Mont., arrived by trainloads for decades in Michigan. It is the target of a federal investigation, begun in 2000, focusing on the Dearborn plant where it was processed and the people who worked there. The probe also will examine whether people who lived near the plant inhaled dangerous amounts of asbestos dust.
Researchers and federal officials say the tainted mineral has killed hundreds and sickened thousands of miners and their families. It was sent to nine processing facilities in Michigan between the 1940s and 1990, say federal officials.
One of them, the former Zonolite/W.R. Grace plant in Dearborn, is among 28 nationwide that is part of the initial phase of a massive federal accounting of the contamination and its effects on plant workers, neighbors and consumers, who put vermiculite to many uses, from insulation to gardening.
The eight other Michigan sites -- Elsie, River Rouge, Milan, Warren, Reed City and three in Grand Rapids, according to a soon-to-be published book on the Libby mine -- will be part of studies, say investigators.
"The potential hazard is enormous" for the workers at the Dearborn plant, which operated from the 1940s until it closed in 1990, said Dr. Michael Harbut, former chair of the Occupational and Environmental Medicine Section of the American College of Chest Physicians. Harbut, of Royal Oak, who has treated thousands of asbestos exposure victims, said people who lived in the Dearborn neighborhood when the plant operated also are at risk. However, federal health assessments completed at five other processing sites around the country have concluded that the risk to neighbors of those plants is low.
Bill Corchran, a spokesman for Connecticut-based W.R.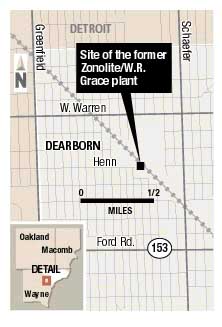 Grace, said he had no comment on the Dearborn investigation. "I'm not familiar with that site," he said.
At the plant, the vermiculite was processed into products -- primarily home insulation sold under the brand Zonolite, and a commercial fireproofing material with the brand name Mono-Kote.
In addition to the contaminated vermiculite ore, the company used raw asbestos from Canada.
The study will determine whether contamination still exists, who may have been exposed, at what levels, and for how long.
W.R. Grace, owner of the Libby mine and of the Dearborn plant, "has provided a list of former workers, and we will be attempting to contact them," said Mark Johnson, senior scientistwith the federal Agency for Toxic Substances and Disease Registry (ATSDR), which is coordinating the probe.
The Michigan Department of Community Health (MDCH), which is conducting the health assessment for the federal government, will send its initial findings to the ATSDR in February. But T.J. Bucholz, MDCH spokesman, would not release details, or say how many workers may have been employed at the Dearborn plant.
Affecting the neighbors
The plant was chosen because of its potential for contamination of workers and neighbors who, if they inhaled dust from the facility, are at far greater risk of asbestos-related diseases like lung cancer; asbestosis -- scarring of the lungs; and mesothelioma -- a rare and almost always fatal cancer of the lung membrane.
And there was plenty of dust.
Madelene Audia, who lives about 150 yards from the plant, recalls dust wafting through the neighborhood in the 1960s and 1970s. It settled in homes and on the local ball field where her two children played almost every day.
"It would get so bad you couldn't go outdoors," she said.
No one told the Audias that the glitter almost certainly contained tremolite, a particularly dangerous form of asbestos.
No one told the plant workers either, according to depositions recorded in the early 1980s, when several workers with asbestosis filed suit against companies that provided materials and manufactured products in the Dearborn plant.
"You couldn't breathe," Huston Jones, who worked at the plant for almost 30 years, said in the deposition. Jones is now deceased.
The dust got in "your nose, your breathing and your eyesight, and it also gets down in your ears," testified Johnnie German, another plant worker, who also is now deceased.
Both workers accepted confidential settlements from the defendants in the cases, said Russell Beaudoen, of the Birmingham law firm Michael B. Serling P.C., which represented the men.
Lurking in the attic
All the ore from the Libby mine was contaminated with tremolite. For several decades, the mine provided 80 percent of the world's supply of the mineral, according to "An Air That Kills," a new book. The book is coauthored by Andrew Schneider, whose 1999 expose in the Seattle Post-Intelligencer prompted a federal investigation into the Libby mine.
The Dearborn plant received more than 306 million pounds, according to federal estimates.
Stephen Sheeran, a salesman for the Dearborn plant from 1966 to 1970, said he sold between 200,000 and 400,000 3-cubic-foot bags of the Zonolite insulation to companies in Michigan and northern Ohio each year.
He says that's enough to insulate about 8,000 attics annually.
Schneider said that 700,000 Michigan homes may contain insulation laced with the asbestos.
The Libby mine and the Dearborn plant both closed in 1990. W.R. Grace filed for bankruptcy among a deluge of lawsuits over the contaminated vermiculite in 2001.
The book, to be published Feb. 2, documents how the mine's owner, the W.R. Grace company, knew of the deadly effects the vermiculite dust had on workers, but never told them or adequately safeguarded them.
So far, more than 220 Libby-area residents, mostly miners and their families, have died of asbestos-related diseases and thousands more are ill, said Schneider.
A deluge of lawsuits
But the extent of danger to Americans casually exposed to asbestos, which is still used in dozens of commercial products, is a controversial topic.
Lester Brickman, a professor at Cardozo School of Law in New York City, concludes in a study published this month that most of the estimated 700,000 asbestos personal-injury claims filed in the United States are groundless.
Brickman, who has testified in court on behalf of asbestos defendants, blames unscrupulous attorneys for undertaking a "massive client recruitment effort" -- knowing that companies will pay cash to settle cases rather than be part of expensive and long trials.
"The asbestos litigation industry continues to thrive, even though as many as 90 percent of the claimants have no injury recognized by medical science," Brickman says in a summary of his research.
Proposed federal legislation would create a $108-billion trust fund to compensate asbestos victims, and limit who gets money.
Proponents say it would ensure only truly sick people are compensated, and force industry and insurance companies to pay into the trust fund. Opponents, who initiated a vigorous television ad campaign against the plan last week -- say it would bail out industry and leave tens of thousands of asbestos-sickened Americans uncompensated.
In Michigan, the state Supreme Court is soon to decide on a controversial rule that would effectively mimic the federal legislation. It would shunt all the state's asbestos lawsuits filed by people without malignant asbestos-related illness to an inactive docket. Only when and if the person becomes ill with a cancer, like mesothelioma, would the case be activated.
The politics of asbestos hold no interest for Paul Martin. He's cleaning up a mess he didn't create.
In 1992, Martin added to his family machine parts business when he bought the vacant building next door -- the old W.R. Grace vermiculite facility.
Last spring, EPA investigators found some old vermiculite in the building, took soil samples and suggested Martin might have to bankroll an expensive soil-removal project. He hired a company to remove the vermiculite, and is awaiting word from the EPA about the soil.
"I've got $20,000, including attorney fees, tied up in this -- and it's a problem I didn't make," he said. "I can't let it bankrupt us."