Asbestos Exposure in the Military
During and in the years following World War II, the use of asbestos on U.S. ships increased dramatically as asbestos manufacturers help write specifications for their products. Hundreds of thousands of Navy personnel and civilian shipyard workers were exposed to asbestos products in the course of their military service or in their work as "yard birds", and would, decades later, suffer malignant diseases as a result.
Although fire and engine rooms aboard ship typically had the highest exposure because of the insulation and refractory products necessary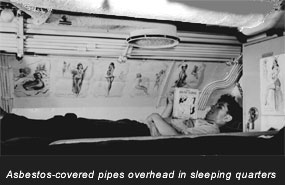 in these high-heat areas, no area was considered safe. Pipe coverings throughout the ship were covered with asbestos lagging, and literally ran inches over the bunks in the sleeping quarters. Ships crews also generally lived and worked aboard ships during routine maintenance operations and sometimes while their ships were overhauled in dry docks over months long periods. More on shipyard asbestos exposure.
Personnel most commonly exposed include:
Boilermen
Enginemen
Firemen
Machinist Mates
Shipfitters
Pipefitters
Electrician's Mates
Seabees (military construction)
Civilian shipyard workers
U. S. Government (Naval) Shipyards where ships were built and/or overhauled include:
Boston Naval Shipyard, Charlestown, MA
Charleston Naval Shipyard, Charleston, SC
Hunter's Point Naval Shipyard, San Francisco, CA
Long Beach Naval Shipyard, Long Beach, CA
Mare Island Naval Shipyard, Vallejo, CA
New York Naval Shipyard, Brooklyn, NY
Norfolk Naval Shipyard, Portsmouth, VA
Philadelphia Naval Shipyard, Philadelphia, PA
Portsmouth Naval Shipyard, Kittery, ME
Puget Sound Naval Shipyard, Bremerton, WA
Private Sector Shipyards where Navy ships, Liberty ships and Victory ships were also built include:
Alabama Dry Dock & Shipbuilding Company, Mobile, AL
American Bridge Company, Pittsburgh, PA
Associated Shipbuilders, Inc., Seattle, WA
Bath Iron Works Corporation, Bath, ME
Bethlehem Steel Company, Hingham, MA
Bethlehem Steel Company, Quincy, MA
Bethlehem Steel Company, San Francisco, CA
Bethlehem Steel Company, San Pedro, CA
Bethlehem Steel Company, Staten Island, NY
Bethlehem-Fairfield Shipyards, Inc., Baltimore, MD
Brown Shipbuilding Company, Houston, TX
California Shipbuilding Corporation, Los Angeles, CA
Chicago Bridge & Iron Company, Seneca, IL
Consolidated Steel Corporation, Orange, TX
Cramp Shipbuilding Company, Philadelphia, PA
Defoe Shipbuilding Company, Bay City, MI
Delta Shipbuilding Company, New Orleans, LA
Dravo Corporation, Pittsburgh, PA
Dravo Corporation, Wilmington, DE
Electric Boat Company, Groton, CT
Federal Shipbuilding & Dry Dock Company, Kearny, NJ
Federal Shipbuilding & Dry Dock Company, Port Newark, NJ
Gulf Shipbuilding Corporation, Chickasaw, AL
J. A. Jones Construction Company, Brunswick, GA
J. A. Jones Construction Company, Panama City, FL
Jeffersonville Boat & Machine Company, Jeffersonville, IN
Kaiser Company, Richmond, CA
Kaiser Company, Vancouver, WA
Lake Washington Shipyards, Houghton, WA
Manitowoc Shipbuilding Corporation, Manitowoc, WI
Marinship Corporation, Sausalito, CA
Missouri Valley Bridge & Iron Company, Evansville, IN
Moore Dry Dock Company, Oakland, CA
New England Shipbuilding Company, South Portland, ME
New York Shipbuilding Company, Camden, NJ
Newport News Shipbuilding & Dry Dock Company, Newport News, VA
North Carolina Shipbuilding Company, Wilmington, NC
Oregon Shipbuilding Company, Portland, OR
Permanente Metals Corporation, #1 Yard, Richmond, CA
Permanente Metals Corporation, #2 Yard, Richmond, CA
Southeastern Shipbuilding Corporation, Savannah, GA
St. John's River Shipbuilding Company, Jacksonville, FL
Sun Shipbuilding & Dry Dock Company, Chester, PA
Tampa Shipbuilding Company, Inc., Tampa, FL
Todd Houston Shipbuilding Corporation, Houston, TX
Todd Pacific Shipyards, Inc., Seattle, WA
Todd Pacific Shipyards, Inc., Tacoma, WA
Todd Shipyards, Inc., Los Angeles, CA
Western Pipe & Steel Company of California, San Pedro, CA
Willamette Iron & Steel Corporation, Portland, OR
Walsh-Kaiser Company, Inc., Providence, RI
More about shipyard asbestos exposure. And exposure locations.
Military Asbestos Resources
Shipbuilding's Deadly Legacy – Report on the Hampton Roads shipyards and the effects of asbestos on the workers there.
Navy and Marine Corps Public Health Center
News Stories about Military Exposure
Lung disease hits thousands; retirees at risk
Submarine workers served their nation well
Waking up to dormant asbestos illnesses
San Francisco, Navy make a deal on Hunters Point
Special Report: Asbestos in the Hampton Roads Shipyards
Shipyards, a Crucible for Tragedy
Want To Find Out More?
Call us toll-free at 1-800-998-9729 or complete the information below and we will contact you.